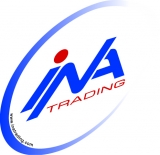 I.N.A. Trading Ltd.
Products: Home textiles, Fabrics, Yarns Thread, Accessories and trimmings, Technical textiles, sector related equipement, Sector related service
City: Sofia
Address: area Mladost 4, 253 Okolovrasten pat
Phone: +359 2 974 52 40
Fax: +359 2 974 52 30
Markets: ;
Contact person: Mrs. Nadejda Penkova
Positon: office manager
Description: INA-Trading offers to the Bulgarian market a variety of products and services required for the equipment and operation of the sewing factories - machines, CAD / CAM systems, CAD service, main and auxiliary materials, spare parts and accessories and warranty service, information workshops and technical seminars. The offered products are a symbol of the highest quality. They are supplied by world famous companies - leaders in the manufacture of machinery, devices and materials for the textile industry.